Lose 4 to 14 inches in 1 hour – PERMANENTLY
Two words – Body Wrap. It's painless, it's relaxing, and it's an effortless and effective way to lose four to fourteen inches off your body in only one hour. Talk about some of the best sixty minutes. Ever.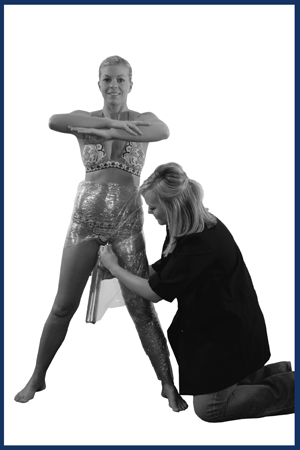 Body Wraps from Club Reduce Salt Lake City are unlike any other wrap, including all the painful sweats and dehydration techniques parading around as body wraps. There is no electric blanket or space heater to make you sweat the minutes away; in fact, most people experience a cooling sensation during their treatment.  Club Reduce Salt Lake City's Body Wrap technique was developed by a bio-chemist from UCLA and encourages circulatory and lymphatic flow, causing a painless cleansing of the tissue.( In case you didn't know, the lymph system is responsible for sweeping toxins, bacteria, viruses, germs and harmful substances from the body.)  In turn, this cleansing of the tissues causes a healthy inch loss in the range of four to fourteen inches per treatment.
Inch loss is great, who doesn't want that? Just wait, there's more. Not only are Body Wraps from Club Reduce Salt Lake City a great way to lose inches, these Body Wraps are a great way to reverse the debilitating effects of cellulite.  Just the word cellulite sends shivers down the spines of hundreds. Cellulite is often described as a condition of uneven fat deposits, water, and other wastes that have become trapped in connective tissues of the body, just below the surface of the skin. We all know it as cottage cheese thighs and orange peel skin, not a flattering look on anyone of any dress size.
Studies have found contributors of cellulite include accumulations of toxins in the body and poor circulation. Loss of blood flow to an area, whether from lack of exercise, excessive sitting, clogged arteries, or nutrient deficiency, can have an impact on the formation of cellulite. A Body Wrap from Club Reduce Salt Lake City is intended to increase circulation and remove toxins from all areas of the body, two causes of that nasty cellulite.
So at the end of the day, with a Club Reduce Salt Lake City Body Wrap you're getting a whole bunch of good things in only one hour: inch loss, a toxic-free body, improved circulation, reversal of cellulite; overall, a healthier you. Not only will you look fantastic, you will feel fantastic – and there is nothing wrong with that. It's time to unwrap the new you with a Body Wrap from Club Reduce Salt Lake City!

Tags: body wrap, club reduce, club reduce salt lake city, club reduce utah, inch loss, weight loss, weight loss salt lake city, weight loss utah